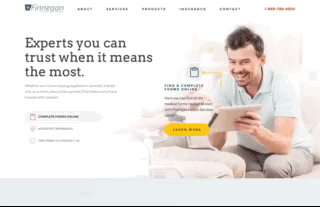 The Finnegan Health site was another quick project I worked on while at Perch. We had completed a Shopify site back-end project for them and they were pleased with it, so we ended up doing a basic informational site besides their store. Here they would be able to display more information about their brand, give people more information on their services, provide easy contact, and also provide downloads for forms.
Because their team had experience with WordPress (and I obviously did as well), we decided that using WordPress coupled with Advanced Custom Fields would allow them to edit all the required content they needed while providing an efficient and familiar platform for the Finnegan team.
I'm a fan of clean design and I liked how this site managed to pack in a good amount of information and content, while still feeling spacious and lightweight. After development we worked with the Finnegan development team to package up and transfer all assets for the site. This was, they would be able to launch and manage the site themselves.
While most things have stayed the same with the site since development, there are a few additions I was not involved with (such as the staff page).